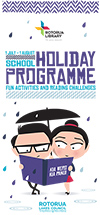 School Holiday Fun
Read all about it! The July 2021 school holidays are here and there's going to be loads of fun activities and events at the Library. From LEGO mind-storming to a "Night Sky" dance party - it's all happening here!
Take a look through the School Holiday Programme above and choose the events that suit. Some do have a cost associated with them and some require bookings so it does pay to get in early.
We also have Busy Bags for some activities so if you cannot come in on the day, please pick up a bag for each child at the library. Look for the bag icon next to the event in the brochure. These are always very popular so come in early and take just what you need so we have enough for everyone.
All bookings and payments can be made on our Online Booking system.
Read to win great prizes.
The Great Te Aka Mauri Reading Challenge is up and running so pick up your entry form (or download it here) and start reading. We have some great prizes to give away and you can also read away your or a family member's library fines just by READING! All entries need to be returned to the Library before 4pm, Sunday 1 August!
A huge thank you to our sponsors:
The Friends of the Rotorua Library
Bay Trust
Tompkins Wake
Rotorua Energy Charitable Trust
Wright Family Foundation
Unison