Family History Month August 2022
For those interested in digging into their roots and filling out their family tree, Rotorua Library is offering a month of free programmes about "Searching Family Histories" to mark Te Marama Hītoria ā Whānau – Family History Month in August.
With support from national experts and community organisations, staff from the library's Heritage and Research Team will offer advice and discuss helpful resources both online and within the library.
From preserving your old photographs and papers to learning how you can use the resources at the Māori Land Court to help in your whakapapa or family history research.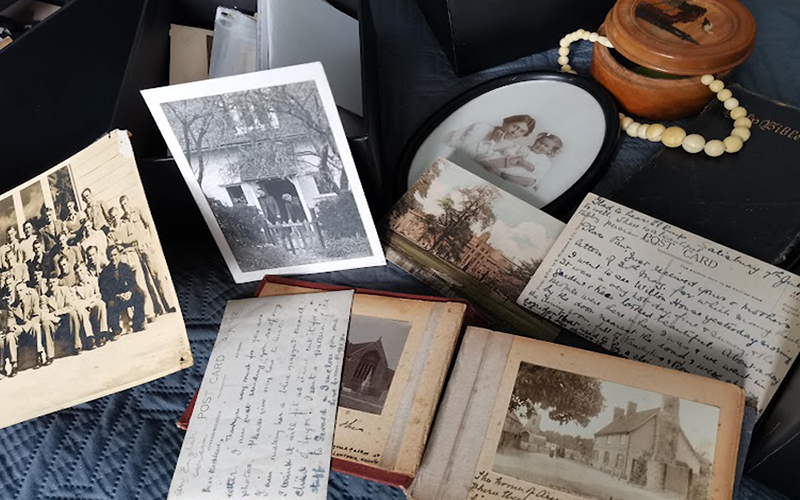 FAMILY HISTORY RESEARCH ASSISTANCE
Every Wednesday in August 2022, 10am-2pm
Volunteers from the Rotorua Branch of the New Zealand Society of Genealogists will be in the library every Wednesday throughout August to help you with your family history research queries.

WHAKAPAPA DROP-IN
Every Thursday in August 2022, 3pm-4:30pm
Nau Mai, Haere mai.
He tangata waimaria koe mehemea he pukapuka whakapapa kai tō whānau.
Ko te whāinga matua o tēnei wāhanga o te pae tukutuku he āwhina i te hunga e rapu whakapapa ana.
The goal of these sessions is to raise awareness for those who are seeking whakapapa and would like to know what research resources are available either online or in our Don Stafford Room.

STORIES FROM AROUND THE WORLD
Wednesday 3 August 2022, 3pm-4pm
In partnership with Rotorua Multicultural Council, we are hosting a panel discussion led by members of our diverse community, who will share family histories and wider cultural practices for recording ancestry.

PRESERVING YOUR FAMILY HISTORY
Wednesday 10 August 2022, 2pm-3pm
Learn how to take care of your family documents with experts from the library's Heritage and Research Team and Rotorua Museum, Te Whare Taonga o Te Arawa. By the end of this one-hour workshop, you will be able to identify the main threats to photographs and paper-based materials, and understand how to protect your family documents in the long-term. Please note, this event has limited capacity so booking is essential.
USING NEWSPAPERS TO SUPPORT YOUR RESEARCH
Wednesday 17 August 2022, 2pm-3pm
Emerson Vandy, Digital Services Manager at National Library of New Zealand will present on Papers Past, including search tips, collections of interest to genealogists, and developments for the website's future. Also, Alison Leigh, Heritage and Research Specialist will discuss how to access Rotorua newspapers using Rotorua Library newspaper indexes. Please note, Emerson will be presenting via Zoom.
A GAME OF MU: Māori Land Court records and their use in reconstructing Māori histories with Ben Manley
Wednesday 24 August 2022, 12pm-1pm and research assistance from 1.30-2.30pm
Māori have continuously interacted with the Court from the time of its establishment in 1862-1865 to today, producing a large volume of unique Court records. What information might you glean about your whenua (land), your Iwi (tribe) or your tupuna (ancestor)? Come along and listen to a presentation on what you might find in the Court's records by local researcher Ben Manley.